Greetings!
My sincerest apologies for the recent lack of content- I was traveling over spring break and then ended up with strep throat (that I'm almost sure I picked up from breathing that recycled airplane air). The good news is that I'm back and that the weather here in Philly is absolutely gorgeous. This means that I get to suggest two of my favorite activities in the world that are 100% free and guaranteed to make you feel more culturally stimulated and more connected to the city.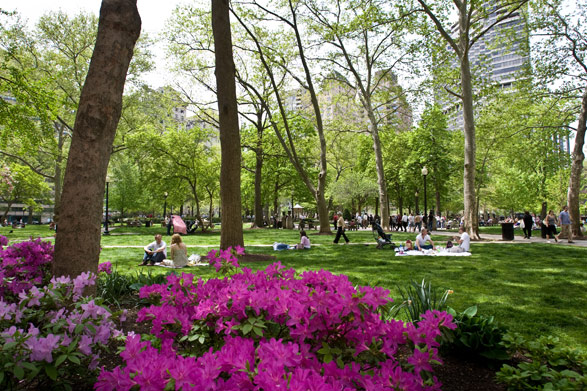 1) Wander. Between the biting cold and vicious winds, being outside for more than 45 seconds can be physically painful during the winter (well, maybe not so much this winter, but you know what I mean). Now that the sun is shining and things have begun to bloom, there's no better time to explore Philadelphia. Take the subway to a stop you've never been to before (read as: take a subway South to somewhere you've never been before) and see what you find. Some of my favorite spots in town are ones that I've encountered by chance, whether they're coffee shops, restaurants, or thrift stores. Tackle a different neighborhood every time- Old City (will never be prettier than it is during the Spring), South Philly (is more than just South Street), Rittenhouse Square etc. Whatever you've been "meaning to check out" but haven't gotten around to- get to it now! (The best part about this is that you can grab a friend, a group, or just your iPod, and don't need to worry about looking weird one way or the other).
2) Wissahickon Park. Despite my deep love for the city, I'm often torn by my comparable love for the outdoors. Wissahickon Park is a 1,800-acre wooded gorge that features excellent running trails, spots for grilling, a creek (yes, you can play in it), a path (for the romantic walkers among us), and a bunch of really old statues and buildings hidden throughout it. I've been going to Wissahickon to trail run (and rock climb, and bike ride) with my Dad since I was a wee child, and it's easily one of my favorite places in the area. Nowhere else do I feel so encompassed by nature, and so disconnected from the outside world. Added bonus: there are highway/road bridges that run over certain parts so even though you get a nice juxtaposition of gratified infrastructure to accompany the trees, that's pretty much the only "outside world" interference that you'll get. I enter my favorite trails in Manayunk, which is an easy bus ride away from campus.
The moral of the story is that sunshine is free, and there's nothing us college kids love more than free stuff, so take advantage of it.

Note: (If exploring isn't your thing, never fear, I'll have a specific, destination-oriented PEX activity for you later this weekend).