Hey Philly. We need to talk.
I know that it's really cool to pretend to not have fun these days. And hey, I get it- the hipster mentality of standing around nodding your head to live music probably looks like a cooler alternative than dancing around like an idiot and showing that you're enjoying yourself.
But please. Let's get serious. What's the point of paying $25 to stand for four hours? You may as well get some exercise, and, imagine that, maybe even enjoy yourself in the process. A little electric slide never hurt anyone, right?.
Unless you're my grandmother Yeta and it's 2005 Bat Mitzbah season. I don't think her hips will ever be the same after that.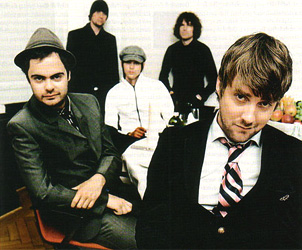 Let's back up a bit. We've already established that I suffer from post-depressive Beatlemania. From the floppy haircuts to the chelsea boots, the minute a rock band starts "La La La"ing, I'm hooked. Leeds natives Kaiser Chiefs are no exception. The quintet are an interesting experiment not only because they employ said catchy riffs but because they make their sound so interesting. In a sea of Fab Four impersonators they manage to keep their sound true to their Britpop genre yet throw in a couple good hardcore guitar drops to set them apart from the rest.
Basically, think of them as the punk cousins of The Beatles.
Kaiser Chiefs took over Union Transfer last Thursday, April 12th, on the Philadelphia leg of their US tour promoting their latest album, "The Future is Medieval". After first hearing their song "Everyday I Love You Less and Less", which pretty much sums up my feelings on everything from ex boyfriends to Glee, I was hooked, and there was no way I was going to miss this gig.
Judging from the ringing in my ears that has not eased up since last Thursday, I'm pretty sure we can all attest that the show did not disappoint. From the wildly acrobatic stage moves to the impressive setlist (a large compilation of their greatest hits, including "Ruby" and "Never Miss a Beat"), it was one of the most entertaining performances I'd ever seen. But even though the Chiefs were everything you'd want to see in a live rock show, some other parts of the experience left some things to be desired. While the band's infectious rock and roll was enough to make half the crowd jump up and down like a Russian folk dancer, the rest of the audience failed to do more than nod their heads along to the beat and scream along to the lyrics. Unfortunately, it seemed like Philly talked the talk but utterly failed to walk the walk.
Sensing this, frontman Ricky Wilson improvised. Halfway through the show, he surprised the crowd by jumping off stage and climbing onto the side railings separating the bar from the general standing/dancing area (although in this case, it was more like the stationary area), where he openly shared the mic, encouraging everyone to scream at the top of their lungs. Freudian, but effective- the tension was released with every shout, yell, and squeal that Wilson got out of them one by one. It seemed as if even though most Philadelphians were too embarrassed about their moves, you can at least count on us to out-yell anyone in the tri-state area.
Which I guess counts for something. I mean, where would we all be without The Clash's legendary wails that inspired over a thousand kids with newly purchased guitar picks and parents who'd rather they go into a sensible career to pick up a guitar and start a musical revolution?
So. For now you're forgiven. But come on, y'all. Get it together in the future. I don't like being the only one making a fool of myself on the dance floor.
If you want to know more about Kaiser Chiefs, you can check out their website here, and if you're banging your head against your laptop keyboard for missing this gig, make sure to check Union Transfer's website for some other awesome upcoming shows.
Also, I have excellent taste in music, so if you're so inclined, feel free check out my favorite tracks:
1) "Kinda Girl You Are" (Off "The Future is Medieval")
2) "Heat Dies Down" (Off "The Angry Mob)
3) "Can't Say What I Mean" (Off "Off With Their Heads")